Zucchinis, eggplants, and tomatoes are the three products that are so easy and plenty to find by the end of summer. This Crustless Egg Tart recipe is the perfect dish to make that doesn't require much effort and you can serve it at any meal.
It's perfect for a lazy brunch or as a light dinner as it doesn't require any pastries sheet or pie crust. This egg tart is high in fiber and low in carbohydrates, which makes it a perfect dish to eat at any time of the day. I made this for breakfast as I just whipped up the ingredients real fast and leave it in the oven, while I get ready for the day. Also, have you seen how pretty these tarts are? I mean you don't need to arrange it to look exactly like this, but it feels nice to eat food that looks pretty.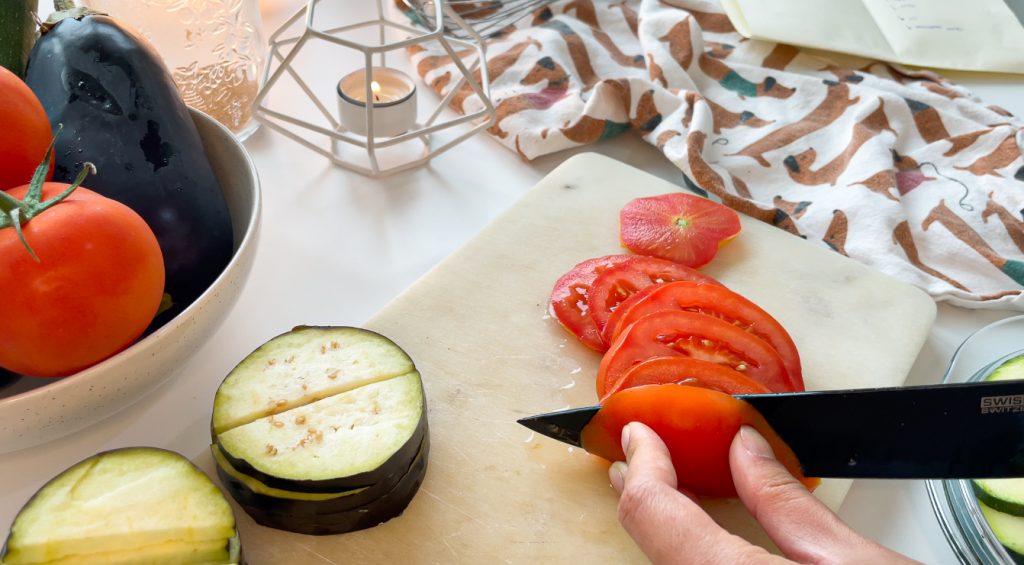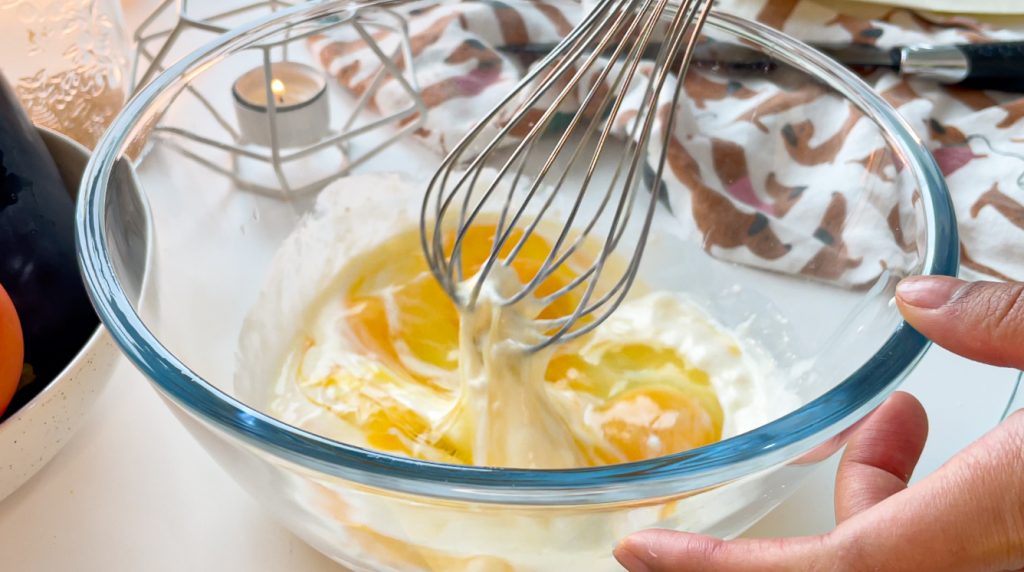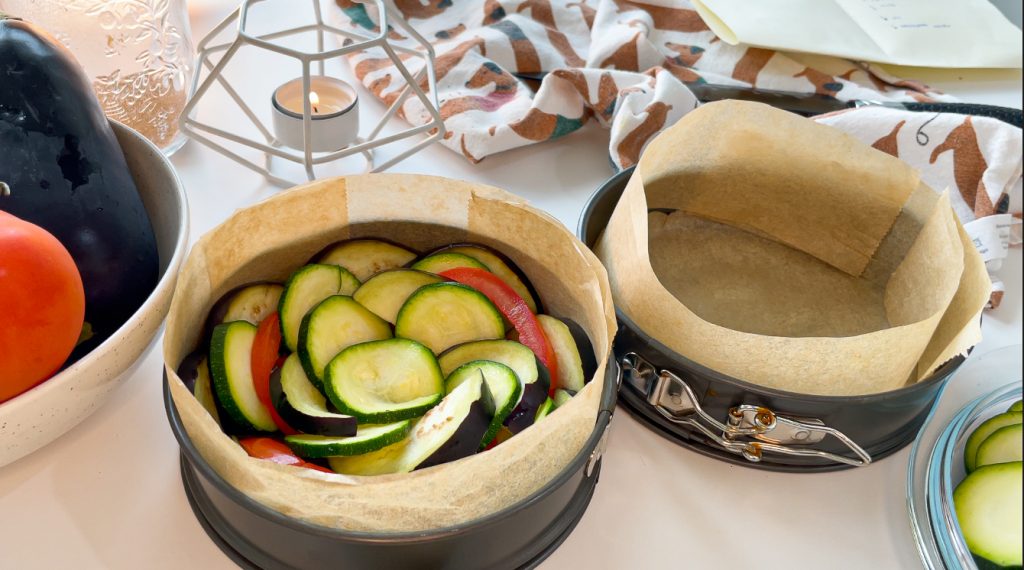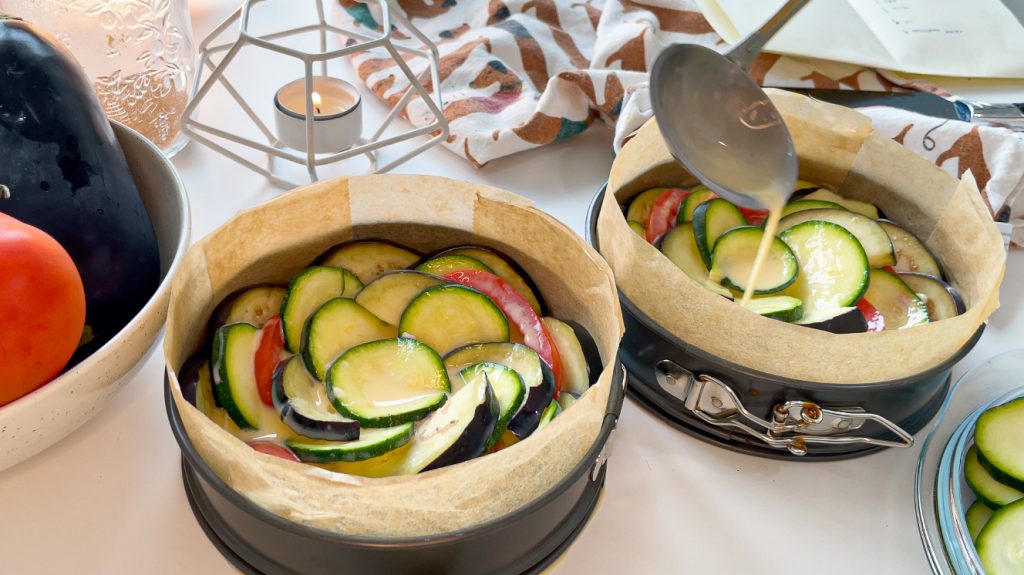 One thing to keep in mind for this recipe is to use a baking dish that doesn't have any space for the liquid to leak out, something I didn't do the first time I tried this recipe. Any regular ceramic pie dish will work great for this recipe. In the recipe video, you will also see that I line my baking dish with some baking paper, this is just to make it easier for me to take the pie out of the dish. It is not required to line your pie dish with baking paper as long as you use butter or oil to prevent the tart from sticking to the baking dish.
Here are some tips for this recipe:
Make sure to use a baking dish that can hold liquid, otherwise, the egg mixture will leak and you will be left with just baked squashes.
You can use any type of squash or vegetables available at that time, but make sure that they have the same cooking time or cut them differently so that they can be cooked at the same time.
You can use any substitute for corn flour and cream to thicken the egg mixture.
You can put the baking paper over the tart when baking to prevent the top part from burning. I didn't use this method in this recipe as I spread it out into 2 portions. If you are putting them all in one big dish, I would recommend using this method as it will require a longer time to bake the tart.
Crustless Summer Squash Tart: Zucchini, Eggplant, and Tomato Egg Tart
Course: Breakfast, Lunch, Dinner
Cuisine: Global
This Crustless Egg Tart recipe is the perfect dish to make that doesn't require much effort and you can serve it at any meal
Ingredients
1 medium size zucchini

1 medium size eggplant

1 medium size Roma tomato

5 large eggs

1/3 cup whipping cream or heavy cream

1 tablespoon corn flour

Salt as you prefer (I put around 1 teaspoon)
Herbs or spices as you prefer
Directions
Preheat the oven to 190˚C or 374˚F. Grease the baking dish with butter or oil, and make sure the liquid cannot leak through the dish. Optional to line the baking dish with baking paper.
Thinly slice the zucchini, eggplant, and tomato in rounds, then cut again in half to create a half-circle shape. Set aside.
Whisk together the eggs, cream, corn flour, salts, and other condiments in a large bowl.
Arrange the chopped zucchini, eggplant, and tomato in the baking dish starting with the bigger pieces from the edge of the dish towards the inner circle. Optional to spread into two portions.
Add the egg mixture by pouring the mixture using a ladle to spread it all over the surface. Optional, cover the surface of the dish with baking paper the same size as the baking dish to prevent the top from burning.
Bake for 25 – 35 minutes or until the egg mixture in the middle is cooked, or until the squash edges turn golden brown.
Let it cool down in the baking dish, drizzle with olive oil, and top with some more condiments. It's always best to eat it the same day as baking.
Recipe Video