You will fall in love with this super easy Banana Walnut Loaf Bread! The sweet smell of this banana bread will cover your whole kitchen inviting a warm and fuzzy feeling to anyone who passes by.
This banana bread recipe is so easy to make, it tastes incredible and it's also packed with fiber. You can mix all the ingredients in one bowl or with a food processor, no matter which way you choose, it will take under 10 minutes to prepare this deliciously sweet loaf. Since it is a loaf, expected it to bake for a while in the oven with the baking time around 35 – 45 minutes depending on how deep or wide your loaf pan is.
The key ingredient for this incredibly easy Banana Walnut Loaf bread is the use of fully ripe bananas which will give the loaf that extra natural sweetness. To spot a fully ripe banana is when the banana has passed the stage where some dark spots have appeared. Once the banana peel has turned mostly dark brown, that is when it is perfect for this recipe. However, you can also use the banana with the spotted peel as well, but the more the banana has ripened the sweeter the loaf will get. Extra sugar can also be used to add some extra sweetness if the banana is not that ripened.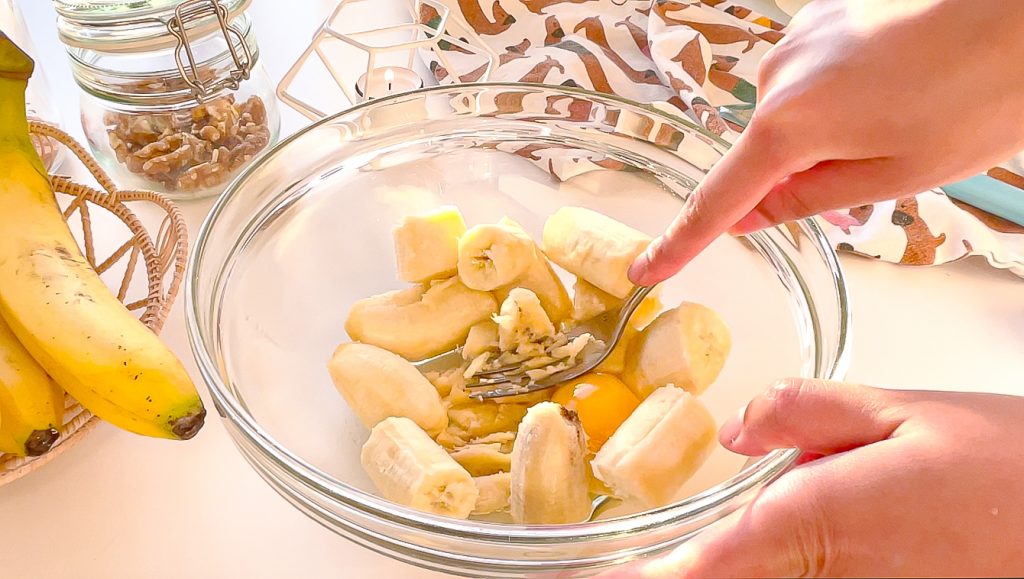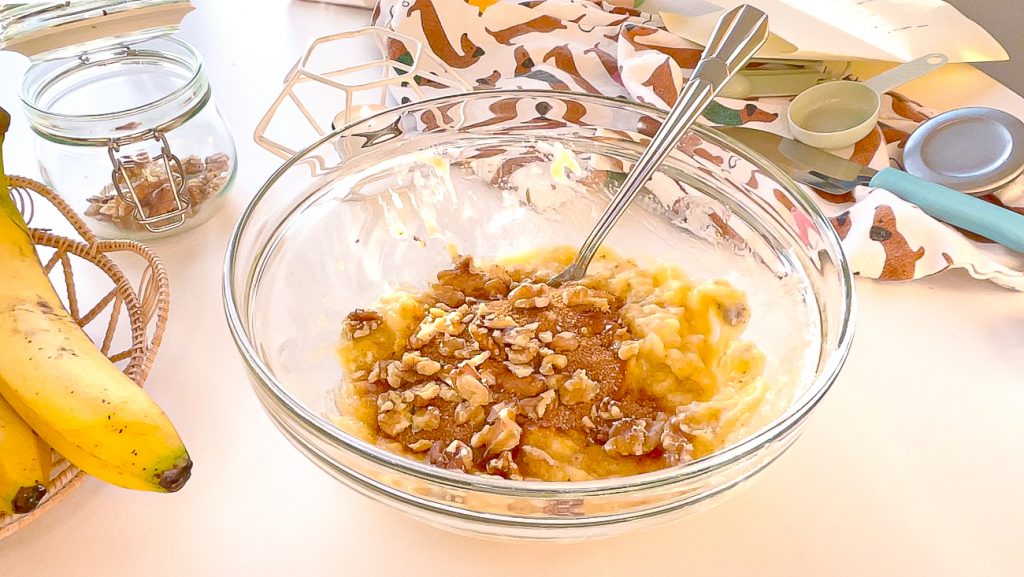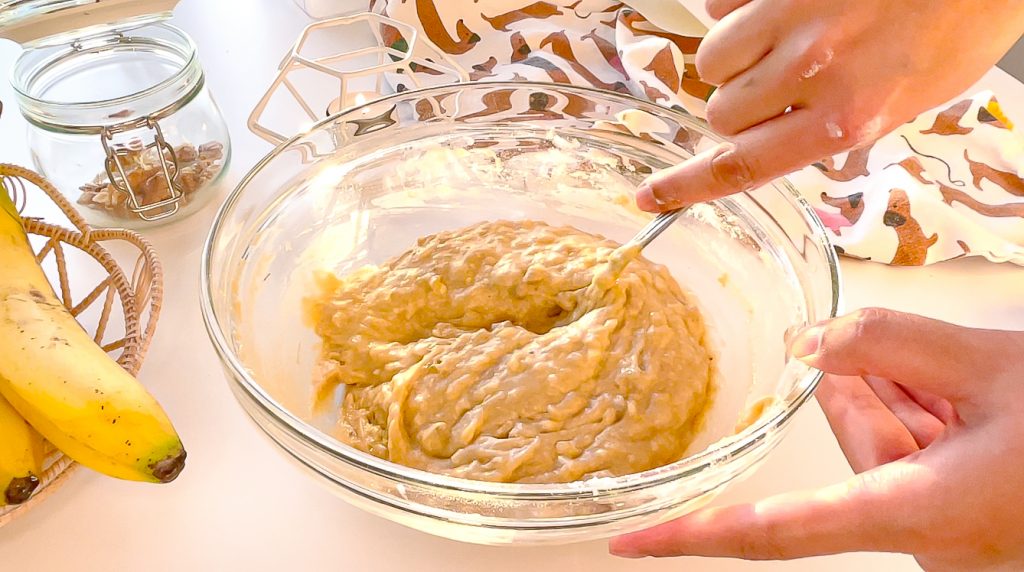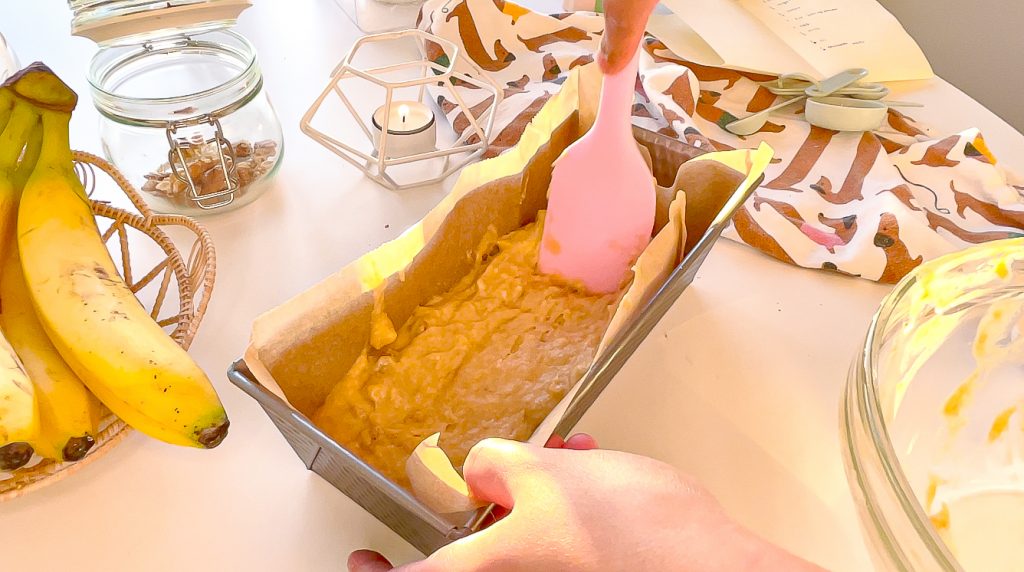 To make this recipe you will need the ingredients below:
Flour – In this recipe, I used All-purposed flour, but other types of flour will also work quite well. You can also experiment with your preferred types of flour as well. In my experience, the only differences the types of flour make are the thickness and texture.
Fully ripe bananas – This recipe requires 3 fully ripe bananas but feel free to triple down or double the portions according to your preference.
Brown sugar – This type of sugar works best with this banana bread recipe. Also, granulated sugar and cane sugar will also work, anything but icing sugar is recommended!
Egg – Feel free to use any vegan baking substitute for egg. If you use apple sauce then you might want to reduce the sugar amount by 1-2 tablespoons.
Butter/Oil – This will keep the banana bread gooey and moist, it's ok to skip or substitute with yogurt.
Baking powder – not baking soda
Nuts or seeds for the crunch
A pinch of salt is also great to balance the flavor
Now that you know what ingredients are required in this recipe, you can go ahead and mix them all in one bowl or just blend it in the food processor, and don't forget to preheat the oven to save some time.
If you like this recipe, feel free to connect with me on other social media platforms to like, follow, and comment! Enjoy this Banana Walnut Loaf Bread with your morning coffee, a scoop of vanilla ice cream, or drizzle some honey on top.
Easy Banana Walnut Loaf Bread
Cuisine: snack, dessert
Difficulty: Easy
You will fall in love with this super easy Banana Walnut Loaf Bread! This banana bread recipe is so easy to make, it tastes incredible and it's also packed with fiber
Ingredients
1 1/2 cup all-purpose flour

1 teaspoon baking powder

2/3 cup brown sugar

3 fully ripe bananas

1 medium size Egg

30g or 1/3 cup butter or oil

Your preferred amount of walnuts
(optional to use other nuts or seeds)

A pinch of salt
Directions
Preheat the oven to 175ºC or 347 F. Prepare the loaf tin (I use a 9 by 5 by 4-inch loaf tin) with butter and line with baking paper.
Mash the bananas with the egg using a fork, food processor, or blender.
This makes it easier and saves time to mix the wet ingredient but you can mash the banana separately if you prefer.
Add brown sugar, walnuts, and salt to the banana mixture. Mix until all the ingredients are incorporated.
Add the butter or oil. Mix again until there are no lumps of butter left (optional to use the melted butter).
Sift over the flour and baking powder in the same bowl as the wet ingredients. Mix until there are no pockets of flour left.
Gently pour the bread batter into the loaf tin and use the spatula to spread the batter evenly. Optional to top the batter with some more walnuts or your preferred crunch.
Bake for about 35 – 45 minutes. Check at minute 35 using a toothpick or knife inserted in the middle of the loaf, if it comes out clean then it's ready. If not keep baking the loaf and check with this method every 5 minutes.
Cool the bread in the pan on a wire rack for 5 minutes. Turn the bread out of the pan and let cool completely on the rack. It can be stored for up to 4 days in the fridge and up to 2 days at room temperature.
Recipe Video