Crumble is a perfect dish to start learning how to bake. It is one of the first dishes I baked when I self-thought myself about the art of baking.
Crumble in general is very easy to master, it is also a crowd-pleaser dessert for a dinner party. I wouldn't say it is fast to make crumble (a good one at least). It is the baking that takes the longest time to make a fruit crumble which will spare you some times to relax or do other things while the crumble is cooking up in the oven. Anyone without baking experience or not a master at baking can make this recipe of Plum Crumble as long as you measure the ingredients properly and accurately. Don't worry, I've put some useful tips for this recipe later in this article.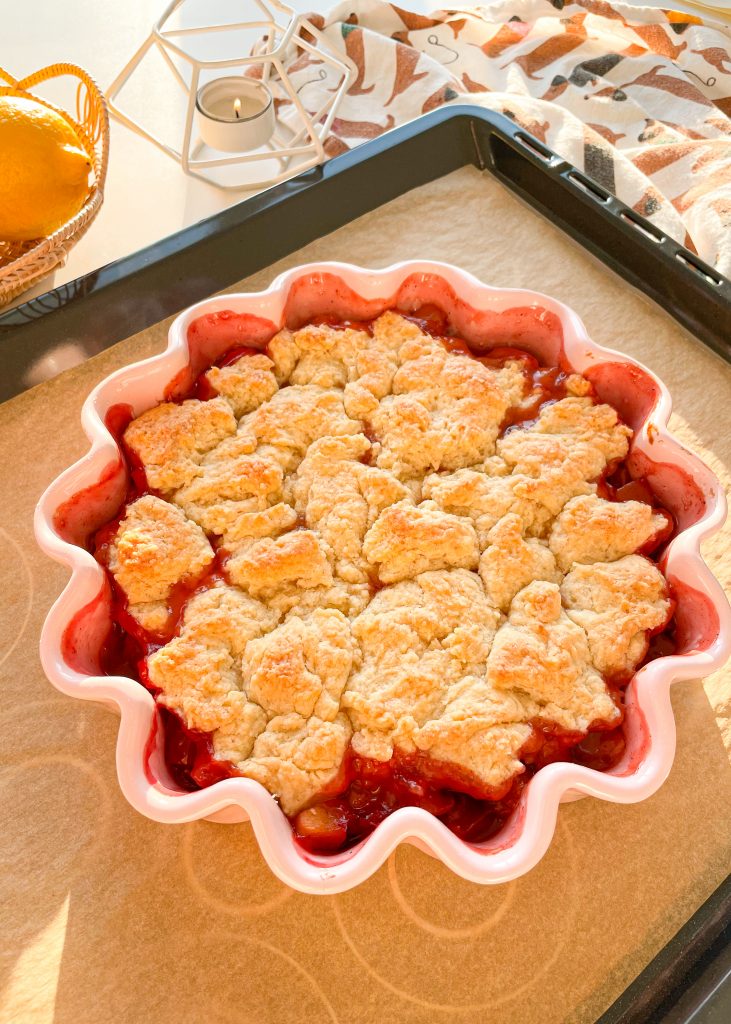 I was tempted to post a healthy version of the recipe for fruit crumble I made a while ago, using oats instead of flour. I saw those recipes popping up on social media lately, but I have to admit that it is nothing compared to this recipe. A perfect crumble for me doesn't actually have that much of a texture but the crumble bit on the top has got the crunchy cake texture and taste. Something that the oats crumble doesn't really give. I figure I won't compromise when it comes to good dessert because my physical and mental satisfaction will be met with this recipe.
If you also want to satisfy your craving, here are some tips for this recipe:
Plum jam: Make sure to use low heat, let it simmer, and stir occasionally. It does take longer but the fruit will break down while the pot is heating up. You can add 1 tablespoon of water at a time if it's getting too thick.
Crumble Topping: I added the cream last which helps the ingredients to not be over-mixed. If you are in a rush, it's ok to add all the ingredients in the food processor and make sure not to over-blend batter.
Baking: Make sure to find a baking pan that can stand the heat for a long time. It takes about 40 minutes to properly bake a whole portion in 1 batch.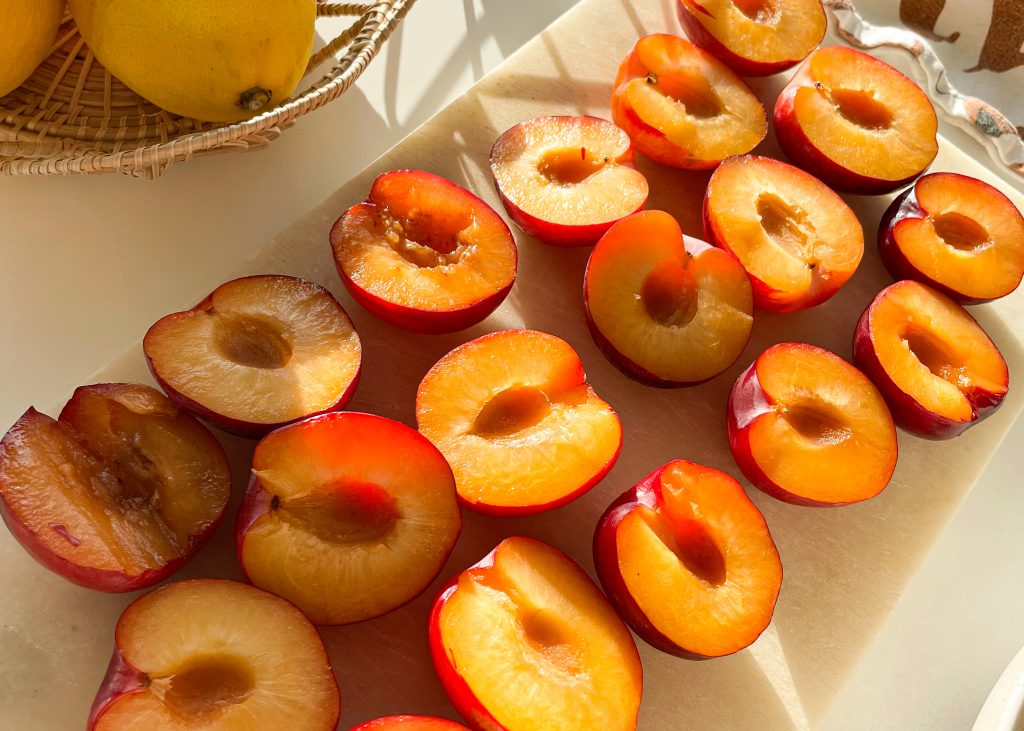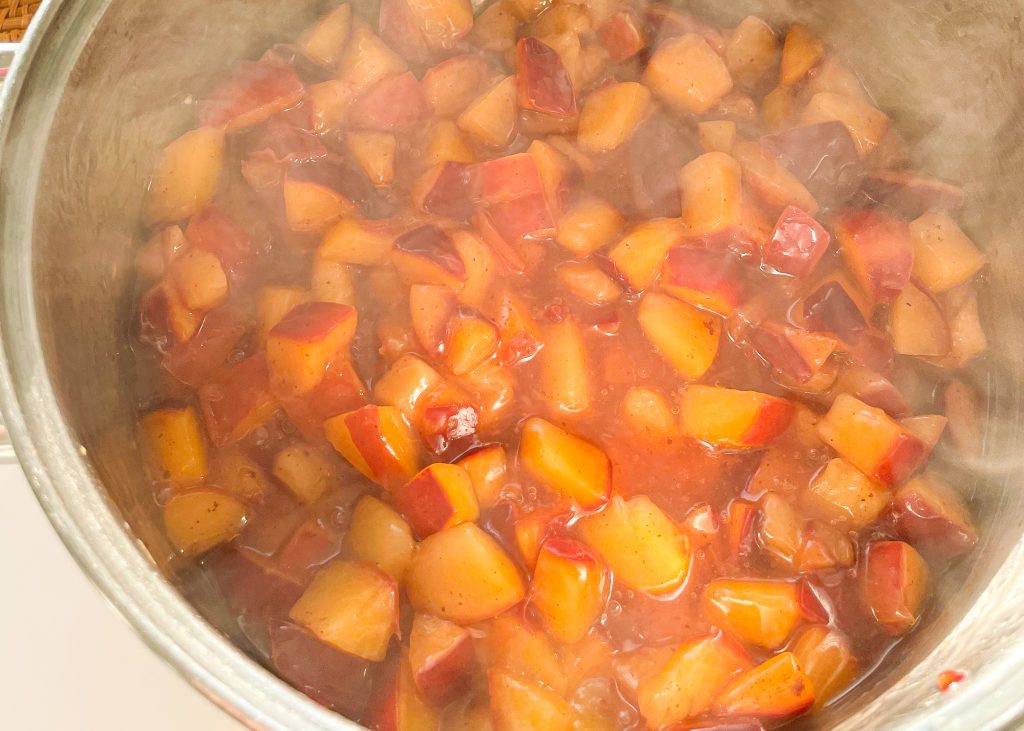 Those are the 3 tips that will guarantee help you perfect this Plum crumble recipe. Be sure to watch the video so you can see a step-by-step guide for this recipe, and connect with me on other social media platforms under @onehappyavo if you have any questions. You got this!
Easy Plum Crumble | Baking recipes to learn this Autumn
Course: Dessert
Difficulty: Easy
Ingredients
Plum jam

9 medium size plums (550g – 650g)

1/3 cup raw or caster sugar

2 tablespoons lemon juice (1/2 of a lemon)

2 teaspoons corn flour

1/2 cup water (add more if needed while the jam simmer)

1 teaspoon grounded cinnamon

Crumble top

75g cold salted butter in cubes

1 cup all-purpose flour

1/4 cup raw or caster sugar

1 teaspoon baking powder

1/4 cup heavy cream or whipping cream (35%-45% fat)

Adds on

Serve with vanilla ice cream or whipped cream
Directions
Preheat the oven to 180˚C or 356˚F. Make sure to have a wide-based, shallow ovenproof baking dish ready on the side.
Plum jam
Remove the seeds and chop the plum into small 1 cm size cubes. Add the chopped plum to a pot or saucepan.
Simmer and stir for about 5 minutes, the plum should be soft but not too soft as it will continue to cook in the oven later on.
Add sugar, lemon juice, corn flour, and water to the pot with plums. Simmer in low heat and keep string to make sure all the ingredients are incorporated and nothing is burning at the bottom of the pot.
Remove the pot from the stove and stir in the cinnamon. Let the plum cool down in the baking dish, and spread the plum jam all evenly on the baking dish.
Crumble top
In a mixing bowl add cold salted butter that is cut into cubes, flour, sugar, and baking powder. Mix together using your hands or food processor until the texture feels like moist sand.
Add cream to the dough and gently fold in the ingredients for 1-2 minutes. The crumble dough for this recipe should be quite thick and sticky. It's ok if you have some of the flour crumbs at the bottom, it shouldn't be too smooth which means you have overworked the dough.
Assemble & Bake
Spread clumps of the crumble top dough evenly covering the surface of the plum jam.
Bake the crumble for 35 – 40 minutes or until the crumble top turns golden brown on top and bubbling around the edges.
Serve warm with cold cream or ice cream on top. Store in the fridge for up to 4 days.
Recipe Video