This eggplant crostini is made of two layers which are toasted bread and creamy eggplant spread. It is late summer/early fall's all-time favorite. You will love it even if you don't normally like eggplants!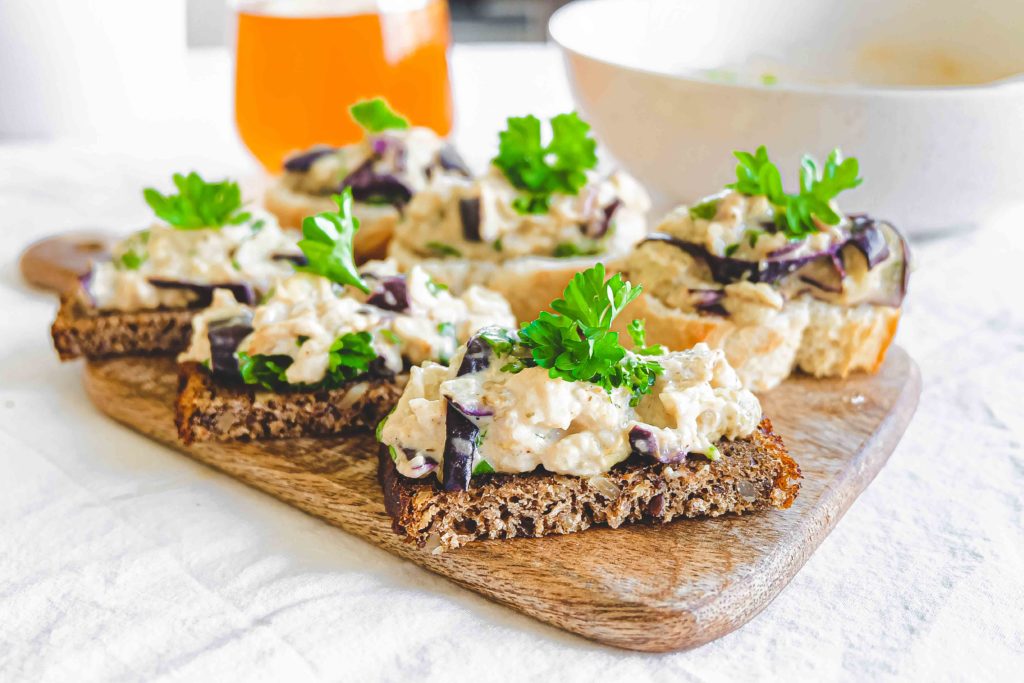 The spread is somewhat like Baba ganoush but is made easier and doesn't require fame or a food processor. All you need to do is bake the eggplant then mix it with the tahini sauce and some flavor. It is a very healthy recipe that doesn't require much effort, honestly. Although the recipe uses the spread for crostini, it can also be amazing as a snack just on a slice of bread. Sometimes I even eat it for a speedy breakfast.
Eggplant Season: The peak season for eggplant is during July – October. It can be grown all year round but it will mostly be more economical during the peak season.
The Good Eggplant: You should be looking for a firm and shiny eggplant. Avoid the eggplant that gets softened with just a light press or with brown spots.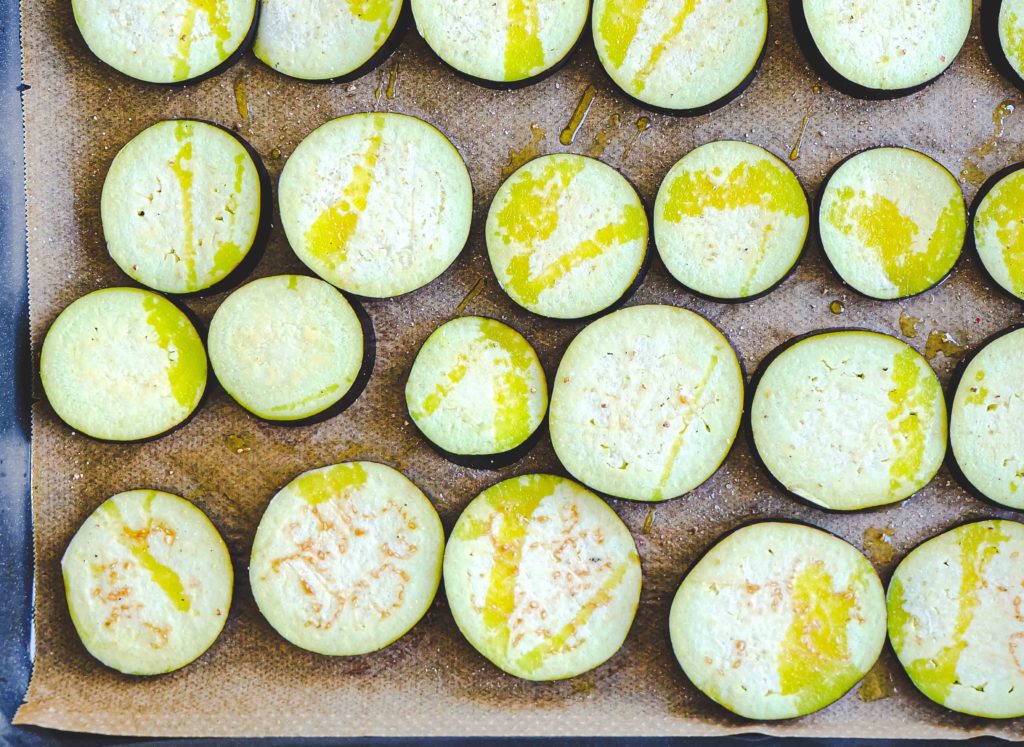 What is in the eggplant spread?
Ingredients:
Eggplant: Globe eggplant is used in this recipe. However, any type of eggplant will work just fine with the recipe as long as it is in the right proportion. The texture of the eggplant is what makes this recipe great. If you prefer other types of vegetables (as in culinary), you may use zucchini or yellow squash.
Tahini: Tahini is widely used in Mediterranean and Middle-eastern cuisine. The paste might sound exotic or new to you; however, tahini is used in a very well-known paste i.e. hummus. Tahini is simply made of oil and toasted sesame seeds. Good tahini should have a silky and runny texture with a nutty taste. Bad tahini will be quite stiff and have a dark color and a bitter taste. Nut butter can be used as a tahini substitute, but you might need to use more oil than this recipe since nut butter like peanut butter is thicker than tahini.
Lemon Juice: Every kitchen essential! Add amazing acidity and a great source of vitamin C. Lime can also be a great substitute for lemon. You will need to reduce 1-2 Tbsp of tahini from the recipe if you use lime as it has lesser liquid content than lemon.
Parsley: Giving a special flavor, parsley is used to add a little freshness to this recipe. It is optional. But just like other condiments, parsley is one of the parts that make this recipe great.
Garlic: Giving the eggplant spread a taste kick, fresh or powdered garlic is used in this recipe. Garlic is a commonly used ingredient in savory dishes, however, it can be replaced with paprika, ginger, or chili pepper.
Oil: This recipe uses olive oil but other vegetable cooking oils work as equally well.
Dry condiments: Salt, oregano, cayenne pepper, and garlic powder as preferred.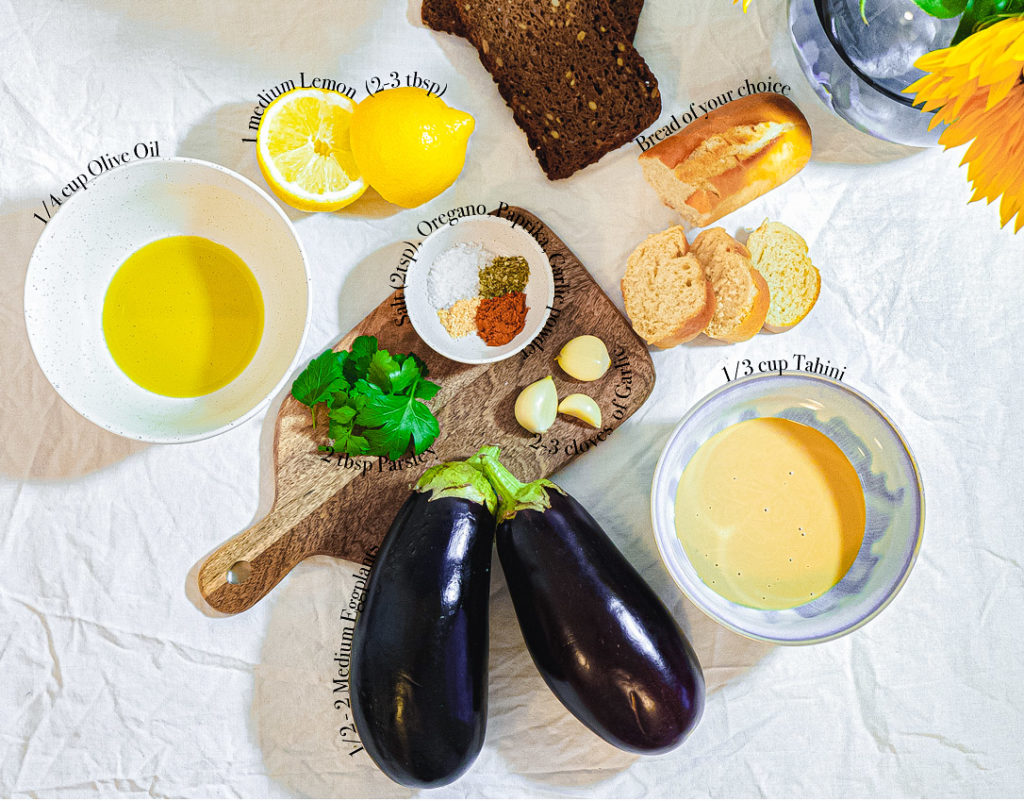 Is eggplant crostini healthy?
Even if this recipe is plant-based, it is not a surprise to be curious if this eggplant crostini is healthy. If you have read this far, you will see that this eggplant spread recipe uses ingredients that have high-fat content i.e. tahini and olive oil. However, the eggplant spread overall provides great health benefits as the main ingredient is eggplant. It is advised to be consumed in moderation which is 3 – 4 Tbsp per meal or time due to high-fat content even though they are good fats.
This recipe uses a whole eggplant including the skin which is a great source of fiber, vitamins, and minerals. Shade-grown plants such as eggplant are rich in the chemical named phytonutrients, which are known to be part of improving mental function.
Is this recipe environmentally friendly?
With no animal products being used in this recipe, it is amazingly environmentally friendly. Most of the ingredients in this recipe have very low water and carbon footprints, but of course, it is better to choose from organic sources.
However, there are some ingredients you might need to be careful with your selection which is tahini and olive oil. Both ingredients are not as environmentally friendly even though they are plant-based products.
Tahini is made of sesame seeds, yet the plant itself can only be grown in a specific type of climate. Sesame is common in the middle east, some parts of Africa, and Asia, so it might not be as ecological to transport the product in some certain parts of the world. It is not as bad but moderate consumption is suggested.
Olive oil is another ingredient that is not so environmentally friendly due to the way it is produced. There are many studies that have undergone the impact of olive oil farming but the results are not as good as they should be. The use of olive oil has tremendously increased in the past few decades, this causes the production to adapt farming to a faster but less sustainable way. If you are not sure to find ecological olive oil, then it is better to replace it with a more eco-friendly type of oil depending on your location.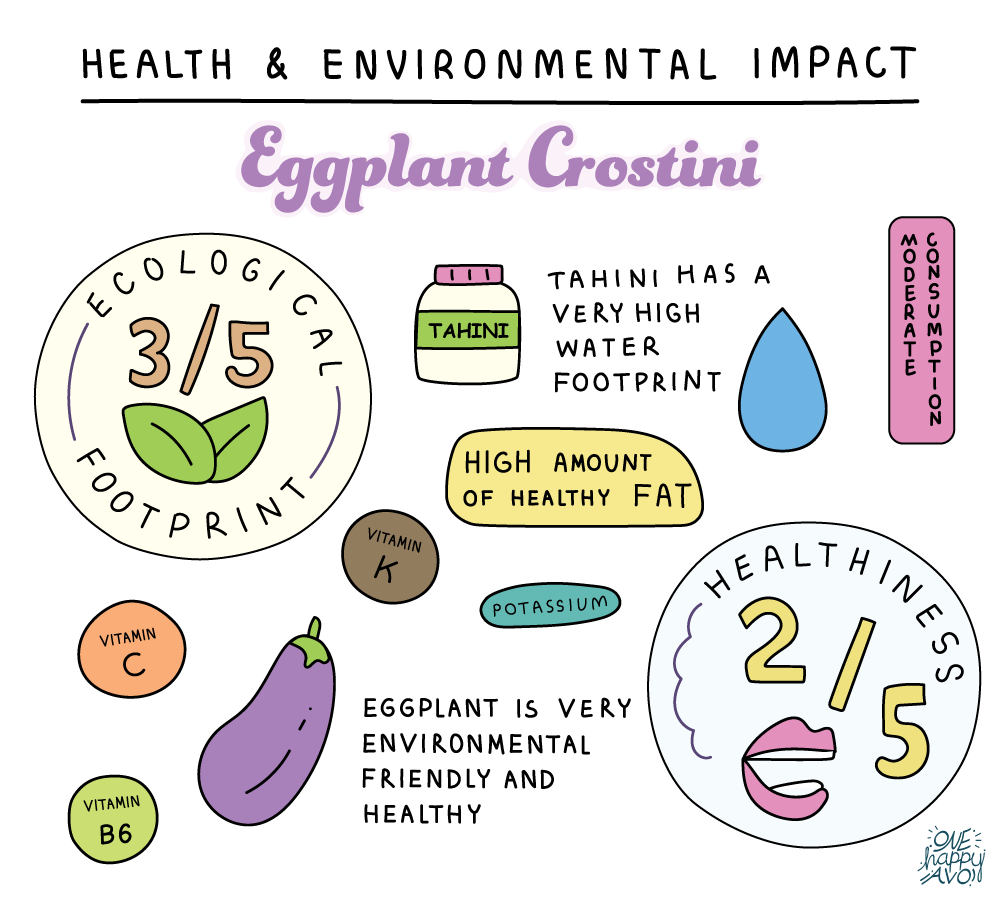 Other ways to use eggplant spread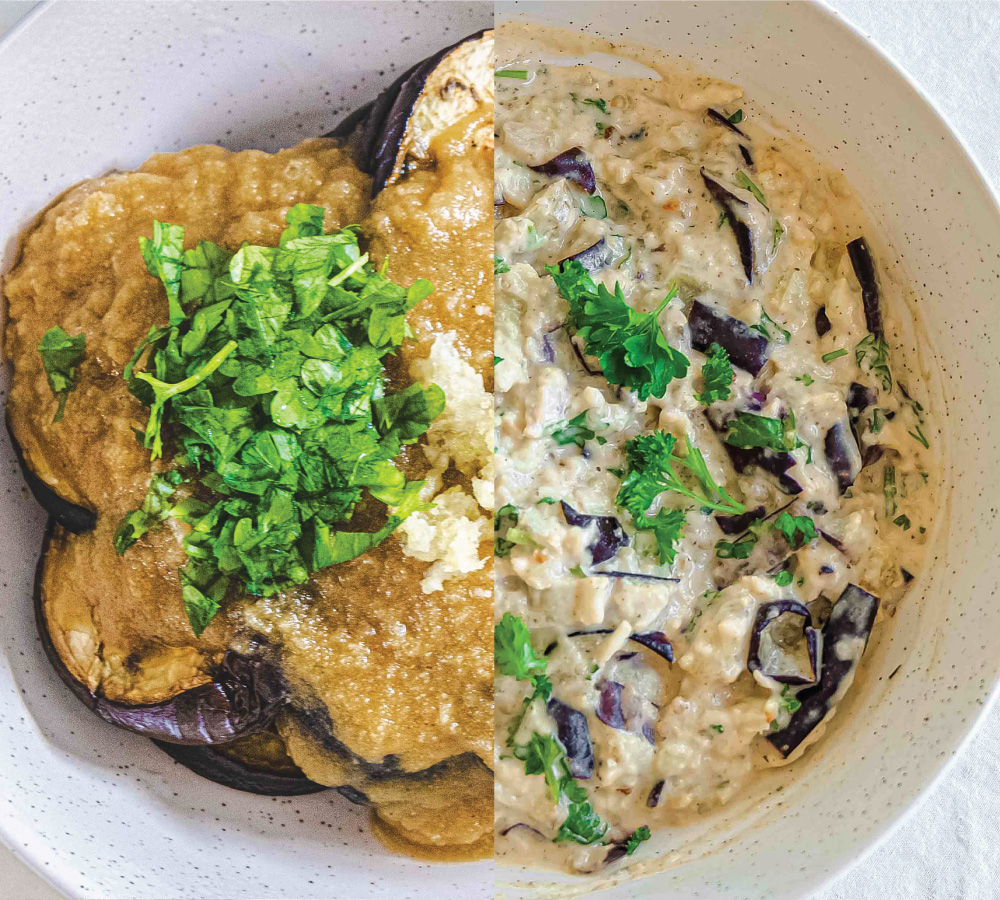 Other than putting this eggplant spread on top of crostini, here other some other ways you can it.
In a sandwich
As a dip
On pasta
Eat it straight
Thank you for stopping by and I hope you like this recipe! Let me know what you think in the comment section below if you have tried this recipe. Be sure to connect with us by using #onehappyavo (works in any form of social media) Chao!
Eggplant Crostini
Course: Appetizers
Cuisine: Mediterranean
Difficulty: Easy
Easy eggplant spread recipe, perfect for a light meal or as an appetizer.
Ingredients
800g Eggplant (1-2 medium Eggplant)

1/3 cup Tahini

1/4 cup Olive Oil

2-3 tbsp Lemon Juice (1 medium Lemon)

2-3 cloves of Garlic

2 tsp Salt

2 tbsp chopped fresh Parsley

1 tsp Dried Oregano

1 tsp Dried Paprika

1/2 tsp Garlic powder

Toasted bread of your choice
Directions
Bake the eggplant: Preheat the oven to 190°C. Wash the eggplant and trim off the top and bottom of the eggplant. Slice the eggplant into 2cm thick disks. Lay on the disks on a baking sheet, drizzle with some oil and add some salt. Put the eggplant to bake in the middle rack for 15-18 minutes when the oven is heated.
Prepare the paste: In a medium size bowl, mix tahini with lemon juice. Add the dry condiments and oil, stir until the paste turns smooth and runny. Peel and wash the garlic cloves, mince with knife or garlic press. Add the mince garlic to the paste. Wash and chop fresh parsley, preferably the leaves. Add parsley to the past. Mix thoroughly.
Mixing: Remove the eggplant from the oven and place the eggplant disks in a large bowl. Cover the bowl to trap the moist for few minutes until you see the water droplets starting to drip. Remove the cover then pour over the paste. Mash the eggplant with the paste using a fork or potato masher until smooth.
Serve with crostini or toast and top with some parsley leaves.
Recipe Video
Notes
Make sure that your eggplant is actually cook before taking out of the oven as the baking time may varies depending on the size of the eggplant. You can check by putting the fork in eggplant, it should be quite mushy and transparent.
If the tahini taste bitter you might want to try other brand of tahini or reduce the tahini amount.