This matcha strawberry smoothie is a perfect twist to your morning smoothie! Packed with vitamin-c and caffeine, this smoothie will for sure give you that wake-me-up.
This smoothie is not just for a pretty visual, the flavor combo is as amazing as it looks. The smoothie is sweet, refreshing and slightly floral. It is made of two layers, the thick strawberry smoothie layer and the matcha layer. I would taste the same too if you put matcha right away when blending the strawberry smoothie but it sure won't look as pretty. Plus, what I lake about this smoothie is the fact that you the strawberry taste doesn't get too mixed up with the matcha. It is like drinking strawberry smoothie with a little kick of matcha.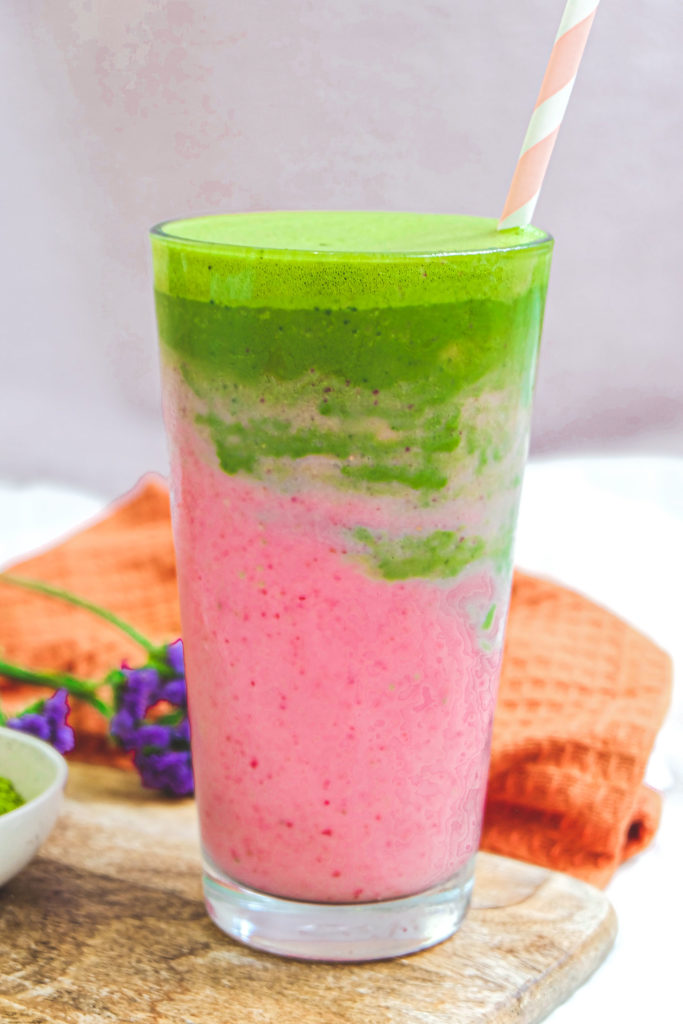 I found that the smoothie tastes the best when I freeze the fresh strawberries myself before hand. I loveee my smoothie thick and cold. You can also use store-bought frozen strawberries, but they tend to be a little more sour than I like. If you like your smoothie a little runny, go ahead and use fresh strawberries.
Some Love and some Hate the combination of matcha and strawberry! Let me know if you love it or hate it in the comme 🙂
Matcha Strawberry Smoothie Recipe
Ingredients
2 tsp Matcha

1 tbsp Hot water

2 cup Frozen or fresh strawberry

150 ml Plant-based milk

2 tsp Syrup
Directions
Blend: Wash and remove the leaves from the strawberry if you are using the fresh ones. Add strawberry, milk and 1 tbsp of syrup into the blender. Blend until there are no chunks of strawberry left.
Transfer the strawberry into a tall glass.
In a bowl or a cup, add matcha powder (for a finer result you can also sift the matcha powder). Pour in the hot water and sweetener (1 tbsp), whisk until the matcha powder has fully incorporated into the water.
Carefully pour over the matcha on top of the smoothie.
Notes
If you prefer your smoothie cold when using fresh strawberry, you can add ice in the strawberry smoothie. This will also thickened he smoothie.