In 30 minutes or less, I will show you how to make a Matcha cherry waffle ice cream sandwich for one person from cravings. This Matcha ice cream sandwich is good for a mix of flavors from many healthy ingredients.
The cherries, vanilla ice cream, and the natural matcha taste are what make this waffle ice cream sandwich so irresistible. I love cherries. I love ice cream sandwiches and waffles, but my favorite isn't available in stores. I wanted to come up with a cherry ice cream sandwich recipe I can make myself. The recipe is so easy to follow and it tastes amazing! It looks like a dessert that could be coming out of a Japanese cartoon (if you know it, you know it).
I made the recipe for a matcha waffle as the texture and the taste blend in best with the cherries and ice cream, but feel free to use any other waffle recipe that is the most convenient or works best for you. Also, other ice cream flavors such as white chocolate or dairy-free alternative can also work great with this sandwich recipe. You can use whatever is available to you at that moment as well.
If you want to also share my experience with the love of this dessert, you will need oats, all-purpose flour, an egg, milk, baking powder, caster sugar, vanilla ice cream, matcha, and frozen cherries. The tools you need for this recipe are a blender, flour sifter, and a waffle maker.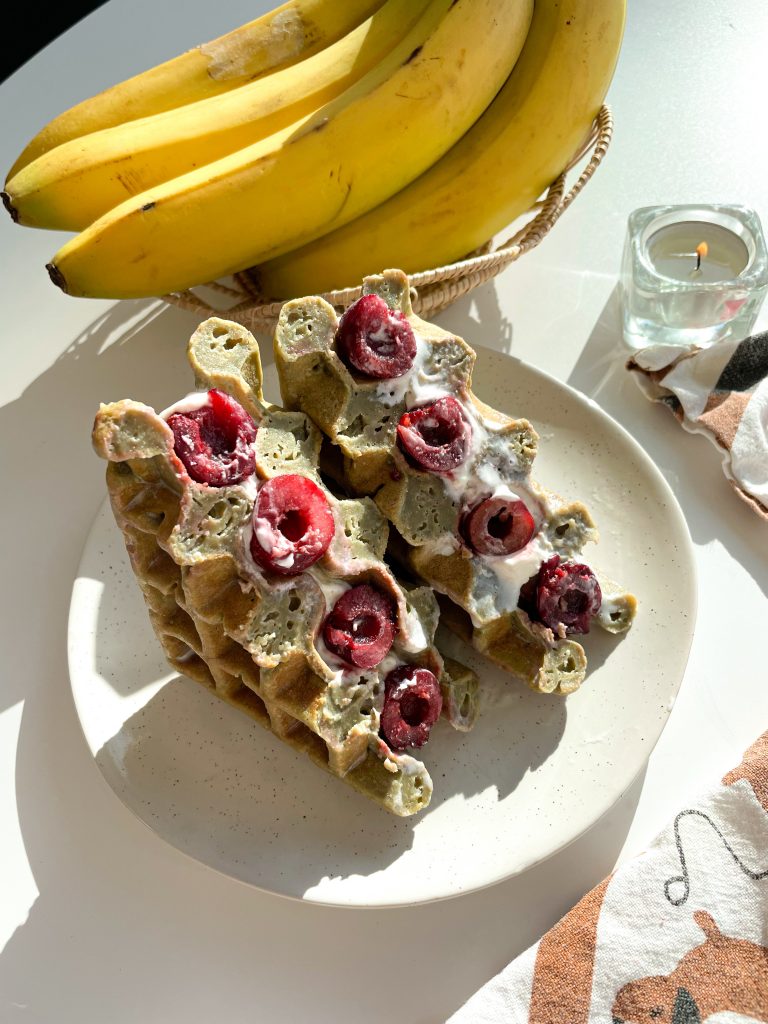 If you have any questions or comments about the recipe, be sure to speak out on my other social media platforms under the name @onehappyavo.
Hope you like the recipe and enjoy baking!
Matcha Waffle Sandwich with Cherry & Ice Cream | Easy dessert for 1 person
Course: Snacks, Dessert
Difficulty: Easy
Ingredients
2 ripe bananas

1/2 cup instant oats or rolled oats

1 medium size egg

1/3 cup milk (any type will work)

2 tablespoons matcha powder

2 tablespoons caster or granulated sugar

1 tablespoon or 15g of butter

1 cup all-purpose flour

A pinch of salt

1 scoop (65g) vanilla ice cream

6-8 frozen cherries
Directions
In a blender or food processor, blend together the bananas, oats, sugar, milk, egg, baking powder, a pinch of salt, and matcha powder until they turn smooth.
Pour the blended mixture into a large bowl. Sift the all-purpose flour over, and fold gently until there is no pocket of flour left.
Heat up the waffle maker and grease with butter or oil. Scoop the waffle batter and cook according to the suitability of the waffle maker. Make as many waffles until there's no batter left.
Let the waffles cool down properly before assembly.
Add a thin layer of ice cream to both side of the waffle sandwhich. Place the cherries on one side of the waffle on top of the ice cream layer, in the direction you are cutting the waffle with.
Cut the waffle in half and enjoy!