This recipe is a fall version of the Pinterest viral heart thumbprint cookies. The recipe is incredibly easy to make and they taste almost like pumpkin spice latte! If you are looking for something to bake with a group of family and friends this fall season, this recipe is a good start.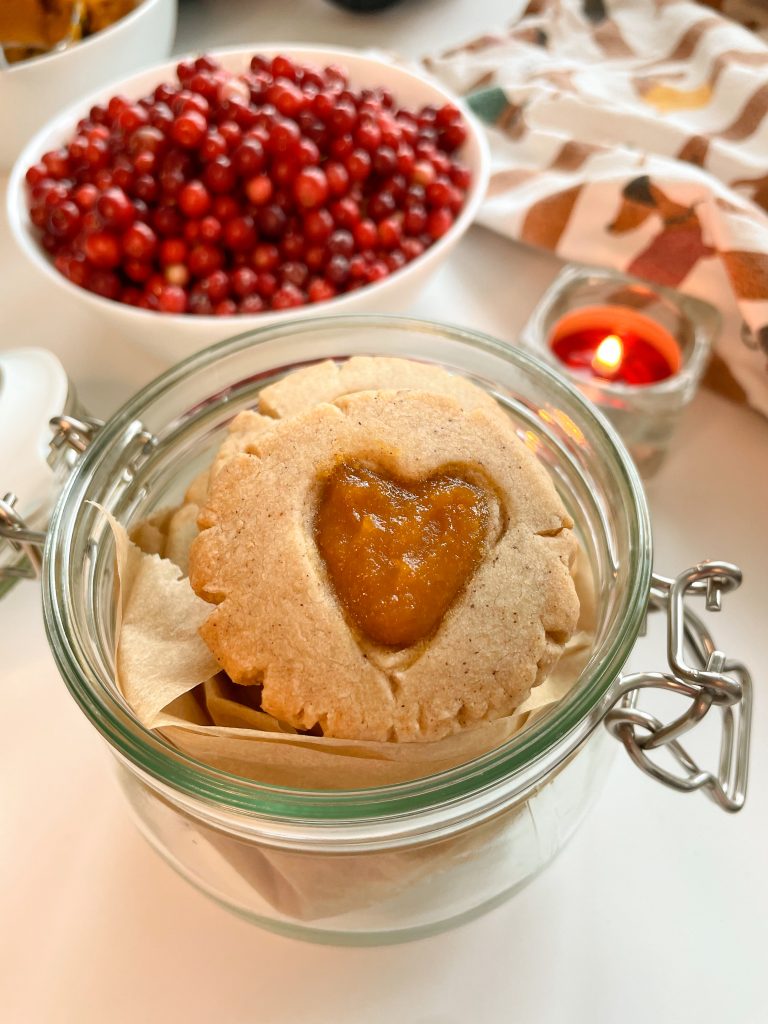 Any heart-shaped bakery just seems to make the most basic baked goods taste a thousand times better. I've been wanting to try making the viral heart thumbprint cookies I saw everywhere on my Pinterest home feed. The moment I got time to make these, the leaves have already turned yellow/red which it only make sense to turn the recipe into something in season. It doesn't take much to make these cute cookies and the more you bake them the easier and faster it seems to make them.
Not only that these heart thumbprint cookies are so aesthetically pleasing, but they also make a very cute gift to loved ones. If you are looking for some cute fall baking recipes that are not pies and bread, then this Pumpkin Heart Thumbprint Cookies recipe is a perfect way to enjoy seasonal baking!
Let me know what are your other favorite fall baking by connecting with me through my other social media platforms under @onehappyavo. Hope you will enjoy making these Pumpkin Heart Thumbprint Cookies as much as I do, and have fun baking!
Pumpkin Heart Thumbprint Cookies | Baking recipes to learn this Autumn
Course: Snacks
Difficulty: Easy
If you are looking for something to bake with a group of family and friends this fall season, this recipe is a good start!
Ingredients
Pumpkin SpiceCookie

1 cup all-purpose flour

115 g butter

1/4 cup icing sugar

1 tablespoon corn flour

1 tablespoon pumpkin spice mix
(2 teaspoons ground cinnamon, 1/2 ginger powder, and 1/2 ground nutmeg)

A pinch of salt

Pumpkin Heart Center

1/4 cup pumpkin puree

1/4 cup apple sauce

2 tablespoon caster sugar

1 teaspoon lemon juice

1 teaspoon corn flour
Directions
The cookies
Mix butter and icing sugar and whisk them together until light and fluffy.
Add the spice mix to the bowl then sift together the corn flour and all-purpose flour into the same bowl.
Mix the ingredients together until the smooth cookie dough is formed. Feel free to use your hand to gently put the crumbs together.
Wrap the dough with cling wrap or store it in a reusable container, rest the dough in the fridge while making the pumpkin filling (can take from 5 – 15 mins).
Pumpkin filling
In a medium, size bowl add together pumpkin puree, apple sauce, and caster sugar. Set aside.
In a small cup or bowl, mix the lemon juice and corn flour. Stir until there is no lump of flour left.
Add the corn flour mixture to the rest of the bowl with the other ingredients, and stir until all the ingredients are combined.
Assembling
Preheat the oven to 175˚C or 350˚F.
Roll out the dough and divide it into 16 equal size balls.
Rest the dough balls on the baking tray with lining, and press the ball to about 1 cm thickness using round and smooth surface objects such as a mason jar or the measuring cup.
Use your fingers to create a heart shape dent in the middle of the cookie dough. If you want a more precise heart shape you can use a heart shape cookie cutter as a guide.
Fill in the heart shape dent with the pumpkin filling just enough to hold the heart shape. The filling can be a bit above the cookie level as it will dry out when baking, creating a perfectly leveled heart filling.
Bake for 12 – 15 minutes or until the edge turns slightly golden brown.
Let it cool down on the tray for 5 minutes then transfer to the cooling rack until the cookies are completely cooled down.
Store in a dry and airtight container(s) to last up to 6 days. Store in the fridge for the cookies to last longer.