These pumpkin-looking bread rolls are adorable and taste like pumpkin heaven!
This recipe is for pumpkin-shaped bread rolls made with sweet bread. It is the pumpkin bread roll (with pumpkin puree mixed in the dough) filled with sweet and creamy pumpkin purée. Then to make them actually look like pumpkins you will need some type of twine, but we can get to that later.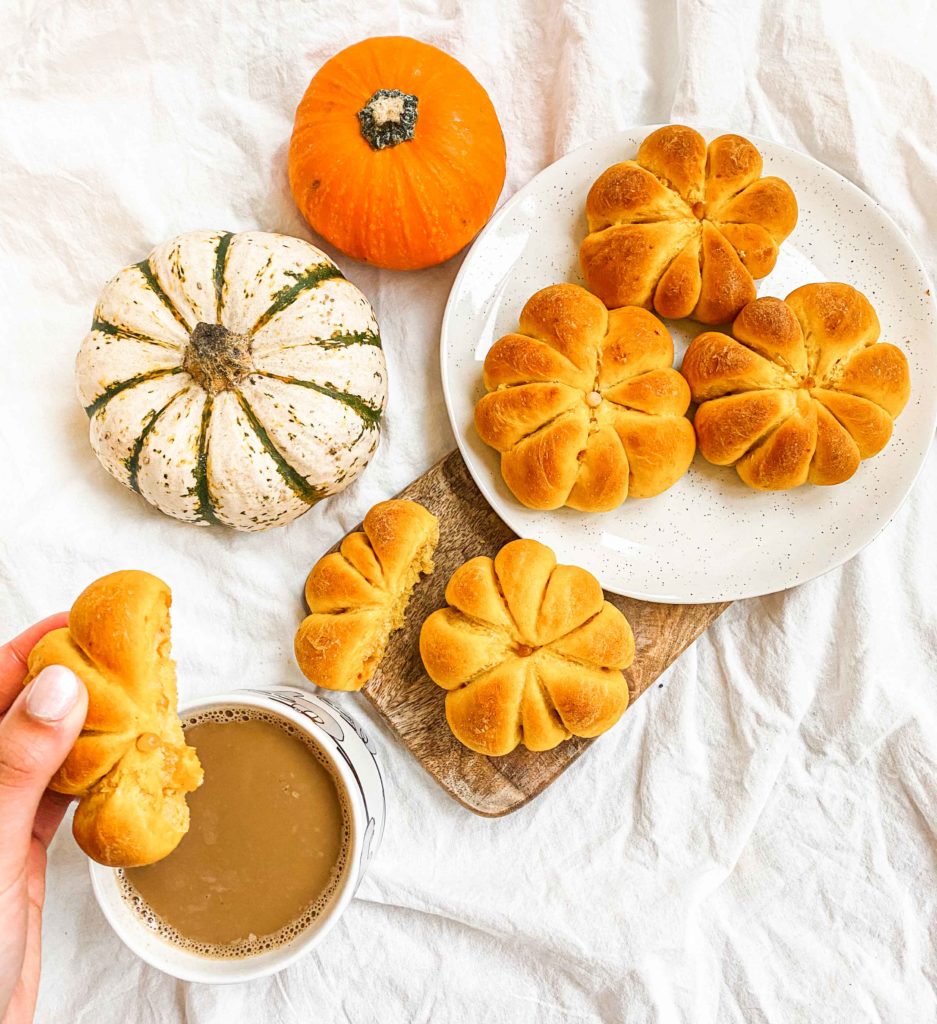 The recipe is actually really simple. You will need to get your hand dirty and knead the dough if you don't have a stand mixer like me. It is very fun to make and looks very cute.
Around October/ November, the market is filled with cute little pumpkins and huge ones that are bigger than your head. I just can't help but load my cart with them as they make great decorations. After a while, I would make some pumpkin desserts from them, and never let a single one of them rot…
This time I decided to make these pumpkin bread that actually looks like a pumpkin and even tastes better than the actual pumpkin itself! It is not one of the easiest recipes to make because it is a bread roll recipe after all. But believe me, it is not that hard either. The result is totally worth every part of the making.
Imagine eating a whole pumpkin, but it's actually bread with creamy pumpkin filling…..that is what we will be making! I am sure everyone will fall in love with how adorable these pumpkin-looking bread rolls are.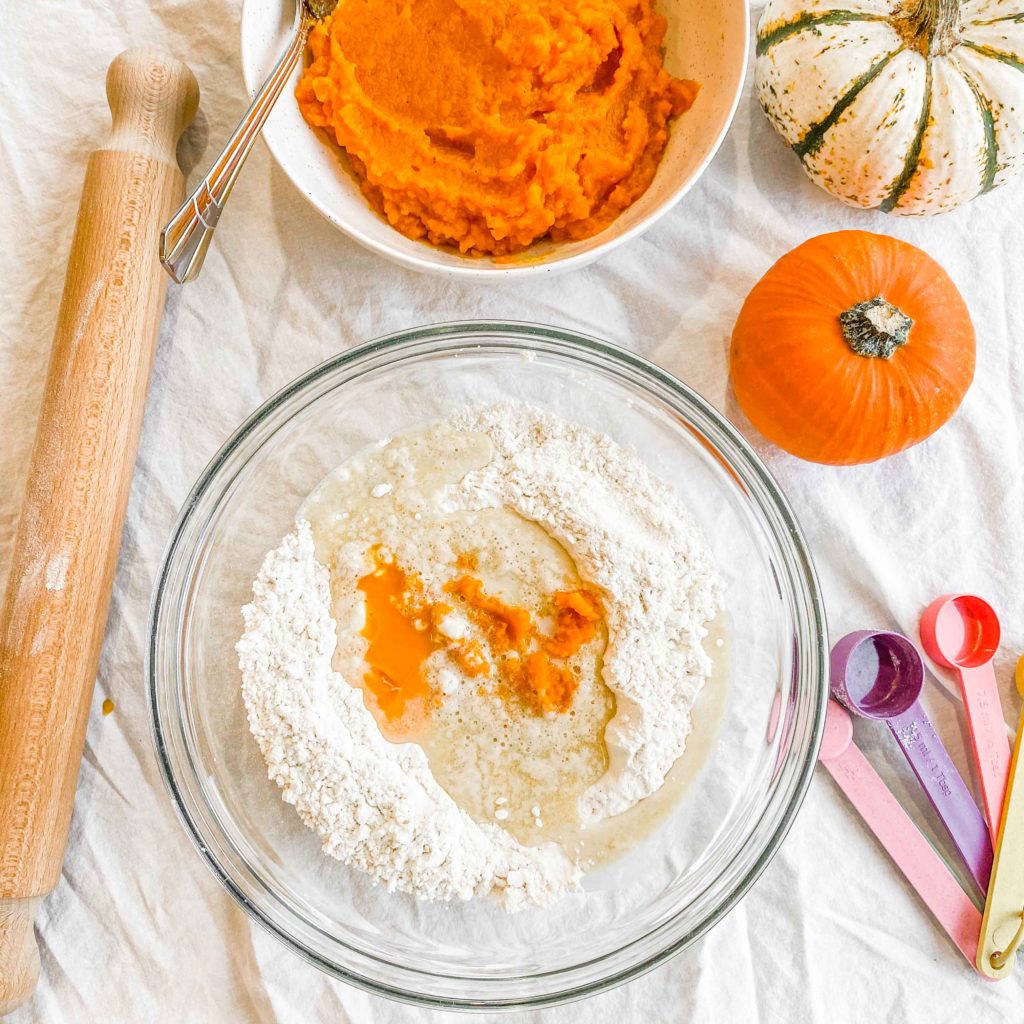 So here is what you will need:
Mashed Pumpkin: I mashed the pumpkin myself and my-oh-my it takes time to cut them pumpkins, but you can buy the already mashed one (unsweetened is preferred).
Bread Flour: You can use all-purpose flour and knead the bread a little lesser than when using bread flour.
Egg Yolk: I fried the leftover egg white and store it for breakfast.
Milk: I use high-fat oat milk as a lactose-free alternative. The higher the fat content, the softer the bread is going to be.
Yeast: In this recipe, we will be using active dry yeast but feel free to use what you prefer.
Sugar: A normal granulated sugar will do.
Butter: Or margarine if you are vegan.
Cooking Twine: to tie the bread rolls and make them look like cute little pumpkins.
Pumpkin Seeds: Or any elliptic nuts to use as the pumpkin stem. You can use pretzel sticks if you are allergic to nuts/seeds.
Pumpkin Spice: Any kind of spice you prefer, in this recipe I use vanilla extract, ground ginger, nutmeg, cinnamon and cardamom.
Now that you have collected all these essential ingredients, it's time to give birth to these little cuties.
Pumpkin-Shaped Bread Rolls |Recipe
Course: Snacks, Dessert, Breakfast
Difficulty: 3/5
These pumpkin-looking bread rolls are adorable and taste like pumpkin heaven!
Ingredients
Pumpkin Bread Dough

2 cups Bread Flour or All-purpose Flour

2 tbsp Mashed Pumpkin

1 tbsp Granulated Sugar

1 tsp Active Dry Yeast

150 ml Milk

2 tbsp Butter (melted)

1 Egg Yolk

1 tsp Vanilla Extract

1/2 tsp of each spice such as ground ginger, nutmeg, cinnamon, and cardamom

Pumpkin Filling

1/2 cup Mashed Pumpkin

2 tbsp Granulated Sugar

1/2 tsp of each spice used in the bread

1 tbsp Corn Starch (optional)

To make it looks like a pumpkin

Twine covered in cooking oil (any kind)

Pumpkin Seeds
Directions
Activate the yeast: Heat up the milk in a pot or in a microwave to lukewarm, which is no more than 50°C (it should feel slightly warm if you dip your finger in the milk).

Pour the warm milk in a medium size bowl. Add yeast and sugar, and stir until there are no lumps of yeast left (but be quite gentle).

Leave for 5 minutes to see if the yeast is active and there will be bubbles coming up on the surface. If the yeast is not active start over, it could mean the yeast is expired or the milk is too hot/cold.
Make the dough: In a large bowl, add flour and make a whole in the middle for wet ingredients. Add egg yolk, melted butter, mashed pumpkin, and the yeast mixture.

You can mix the ingredients with a rubber spatula and then knead the dough, it is less messy this way or you can use your hands to start kneading right away.

If you use a stand mixer, with the dough hook, mix the wet ingredients and 1 cup of flour on low speed for 30 seconds. Then add another cup of flour and turn to medium speed for another 4 minutes.

The dough should feel quite elastic and doesn't rip easily.
Rest the dough (1st rise): Lightly grease the large bowl with oil. Place the dough in the bowl and turn the dough around the bowl to make sure the surface is covered with oil.

Cover the bowl with a kitchen cloth and let it rise for 1-2 hours. The dough will rise properly in a warm environment.

If you have a cold environment kitchen, basically heat the oven to 50°c, then turn off the oven and let the dough rise in there with the oven door shut.
Make the filling: In a small pot or saucepan, add mashed pumpkin, sugar, and spices.

Put on low heat and stir until the sugar is melted (you can add 1-2 tbsp of water if the mashed pumpkin gets dry).

If you prefer a thicker filling, you can add corn starch with 2 tbsp of water and stir well until there are no lumps left.
It is easier to handle when the filling is quite thick.

Let the mixture cool down.
Shape the roll: When the dough has risen at least twice bigger, punch the dough down to release some air. Divide the dough into 9-12 balls.
Making the pumpkin looks: Flatten the dough ball out and add 1-2 tbsp of pumpkin filling at the center and wrap the dough into a ball shape.

With the oil-covered twins, squeeze out any excess oil. You can lay out 8 same-length twines intersected in a star shape and place the dough at the center then tie all the twines at the top of the dough.

Or you can place the dough at the center over the twine. Take two ends of the twine and cross it in the center, then flip the dough around and cross the twine again, and flip the dough with the string again and repeat.

Make sure to not tie the twine too tight as the dough will need to rise. Repeat for each dough ball.
Let the pumpkin rise (2nd rise): Rest the dough in a baking pan to rise (in a warm environment) for another 30-45 minutes (cover with a wet towel or grease with oil/butter). After it has risen, you can decorate by adding the seeds as stems.
Bake: Preheat the oven at 175°C. Bake for 13-15 minutes.

Cool the bread down after baking for 10 minutes, then carefully cut and remove the twine from the bread rolls.
It can be quite overwhelming if it is your first time making bread. But don't be discouraged, all the best chefs have had their trying rounds. If you have already known the basic of bread making, you can experiment it your way. I am sure it will be great anyhow!
Let me know how it goes or if you have any questions in the comments 🙂