This Pumpkin Chocolate Chip Oat Cookies recipe is oil/butter free, NO flour, NO sugar is required. It is packed with fiber from the oats that give you sweet satisfaction without having to worry about overeating sugar.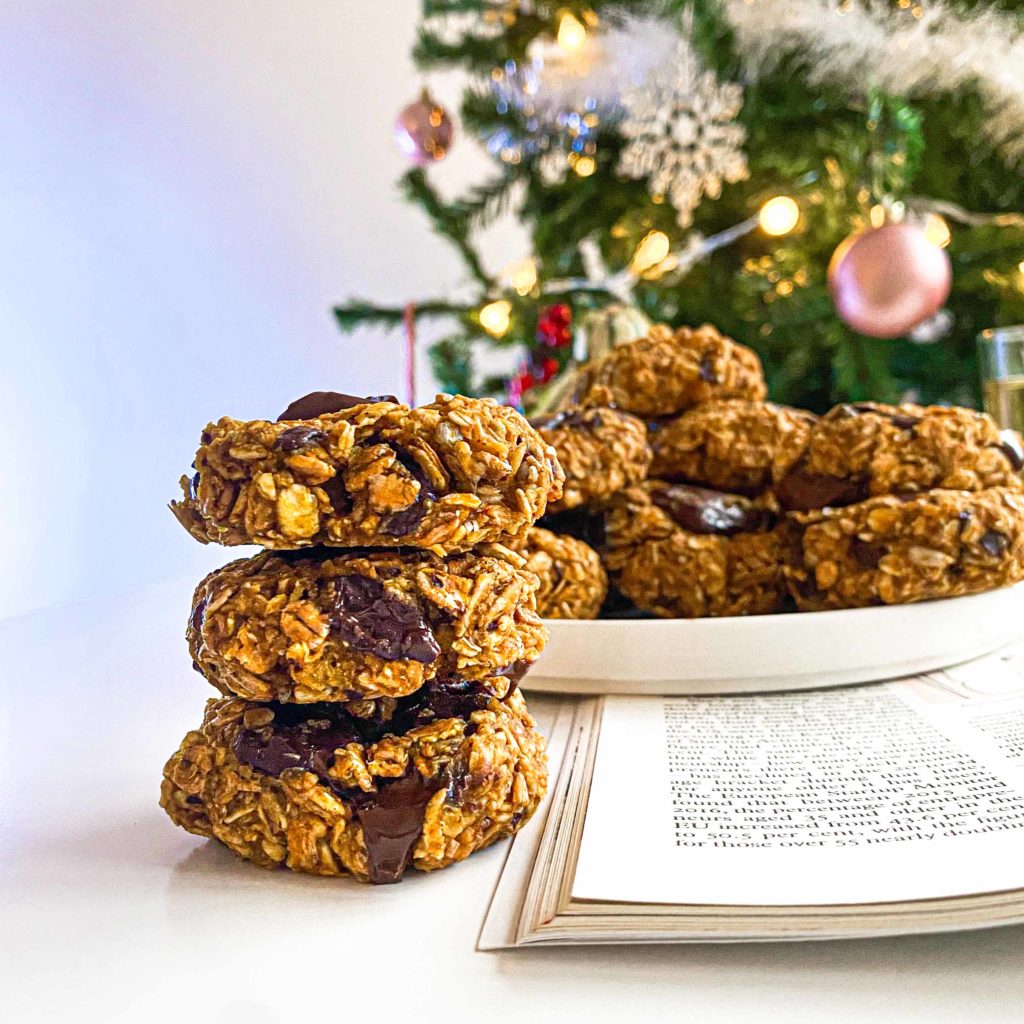 I developed this recipe around thanksgiving time, when the pumpkins that I used as Halloween decorations were about to rot and the cookies feast was just beginning. Around this time every year, my cookie cravings and all thing cozy have been turned up to the max. I know that it's not just me 🙂
So this year I decided to go a little more kind to my health and whip up this super healthy cookie recipe. If you also want to go a little softer on the holiday sugar binge then you can try make these adorable Pumpkin Chocolate Chip Oat Cookies.
The cookies are made up of four main ingredients: Pumpkin puree, rolled oats, eggs and chocolate chips, that is it! Seriously, it took me only 20 minutes to give birth to these cookies.
And since the main ingredient is rolled oats, it is also very full-filling. No matter how hard you try to binge on these cookies, you can be full and satisfied in lesser than 10 cookies. I consider these cookies to be a great way to increase my fiber consumption.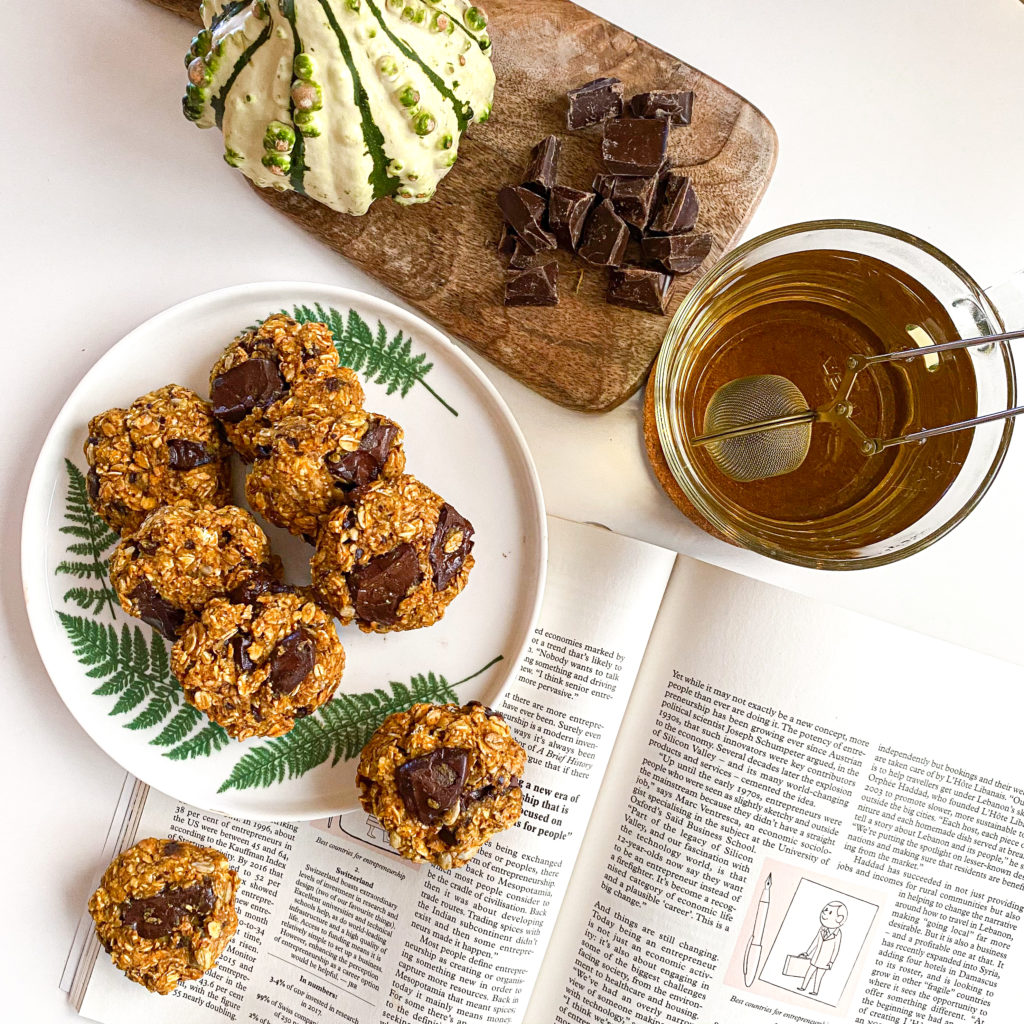 There is no need to use butter or oil in this recipe since the pumpkin puree works wonder in keeping these cookies soft and moist. Although, and I am not gonna lie, it does have different texture than you would normally experience with the "standard" cookies (with flour, butter, eggs and sugar). So I am just giving you a heads-up. But they taste just as amazing as another cookie existed.
These cookies can also be made vegan. Instead of eggs, you can also use mashed bananas, apple sauce or ground flaxseed paste. I use eggs in this recipe as the binder for all the ingredients. So if you were to substitute egg with plant-based ingredients in this recipe, make sure to use something that has a thick, paste-like consistency.
For the equipments for this recipe: you will only need a large bowl, a spatula, baking tray, baking sheets and the oven. There is no need for a hand or stand mixer. It honestly is super simple and fast, something that you can make without much effort and time.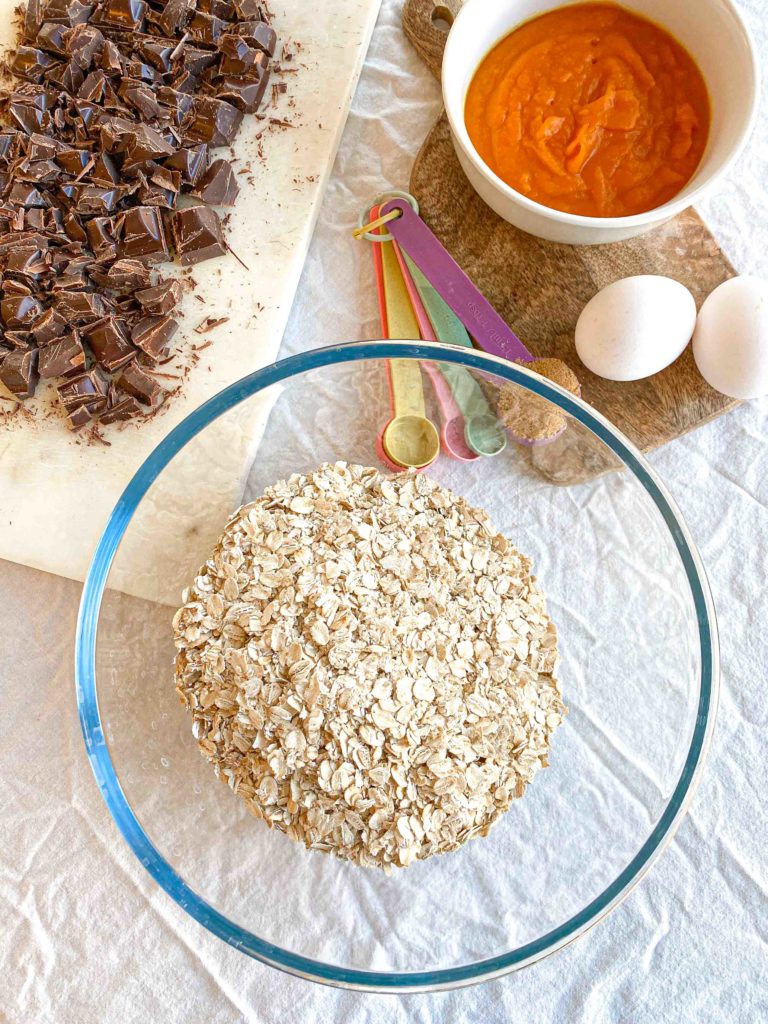 To make this Pumpkin Chocolate Chip Oat Cookies recipe you will need:
Old-Fashioned Rolled Oats: you can also use quick cook oats but this might effect the texture of the cookies. Feel free to add seeds and other kinds of grains with the oats. For example, in this recipe, I replace half a cup of rolled oats with sunflower seeds.
Eggs: to bind all the ingredients together. You can replace eggs with some plant-based ingredients such as mashed bananas, apple sauce or ground flaxseed paste to make this recipe vegan.
Pumpkin Puree: If you are not a fan of pumpkin, feel free to replace it with other kinds of purees such as butternut squash, sweet potato, mashed banana and apple sauce. The cookie will be sweeter if you use mashed banana and apple sauce instead of pumpkin puree.
Chocolate Chips: Any kinds of chocolate chips or bits will work. You can also use cocoa nibs to make it completely sugar-free.
Sugar and Spices (optional): I like my cookies a little sweet still so I add a tablespoon of brown sugar, but you can also use honey or agave syrup in this recipe. Since the eggs act as a binder, your choice of sweetener will not have much effect on this recipe. I also like to a little kick to these cookies, I use cinnamon, cardamom and ginger powder with some of the batches. Vanilla is also another classic yet good choice for this recipe.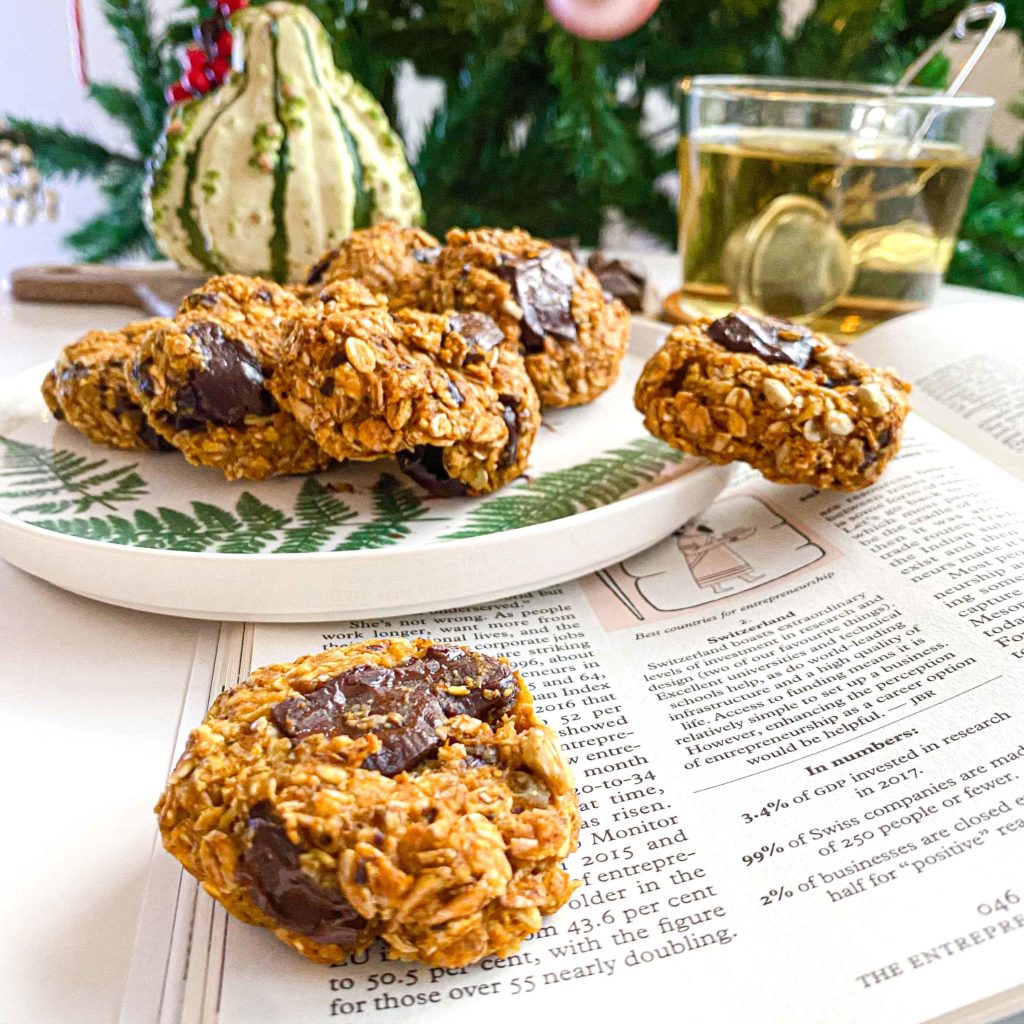 The way of making these cookies is absolutely simple. You can make it with your kids during this holiday as one of the fun activities. It is fail-proof so for sure there will be no disappointment with this cookies recipe. It also doesn't take many equipments or ingredients, so it will not get super-duper messy, because I know making cookies can be a little messy sometimes 😉 Let me know how it went!
Super Healthy Pumpkin Chocolate Chip Oat Cookies |Recipe
Course: Snacks, Dessert
Difficulty: Easy
Ingredients
2 1/2 cup Rolled Oats

3/4 cup Pumpkin Puree

2 Medium size Eggs (1/2 cup)

1 cup Chocolate Chips

1 tbsp Brown Sugar or Syrup (optional)

1 tsp Pumpkin spice mix (optional)
Directions
Preheat the oven at 160 °C
In large bowl, mix all the ingredients together.
Prepare the baking tray, line with parchment paper. Rolle the dough in to 12-15 equal size balls. Place on the try 1 inch apart and press lightly to flatten to cookie dough. The dough should be around 1 inch thick.
Bake the cookies for 13-15 minutes. Let them cool down for 10 minutes on the tray after baking. Then transfer them to the drying rack to cool down.
Notes
Store in airtight container for the best results.