This Pumpkin Cranberries Danish is a perfect recipe to bake this fall! The recipe is made from all fall favorites ingredients that will give you the ultimate fall vibe. Nothing beats the feeling of having these danishes in the morning pairing with your favorite cup of coffee or tea on a rainy autumn day.
This danish pastry is one of my favorite things to bake on a rainy Sunday. When making this recipe, please prepare for your kitchen to smell like freshly baked pastry with a hint of pumpkin spice and tingly cranberries!
Danish pastry or any puff pastry in general takes quite a long time to make. While you can buy the already-made puff pastry dough, there's nothing quite compared to the fresh homemade pastry that you've made yourself. This recipe only shows how to make the pumpkin and cranberry filling, but you can find the recipe for the homemade danish pastry on this link.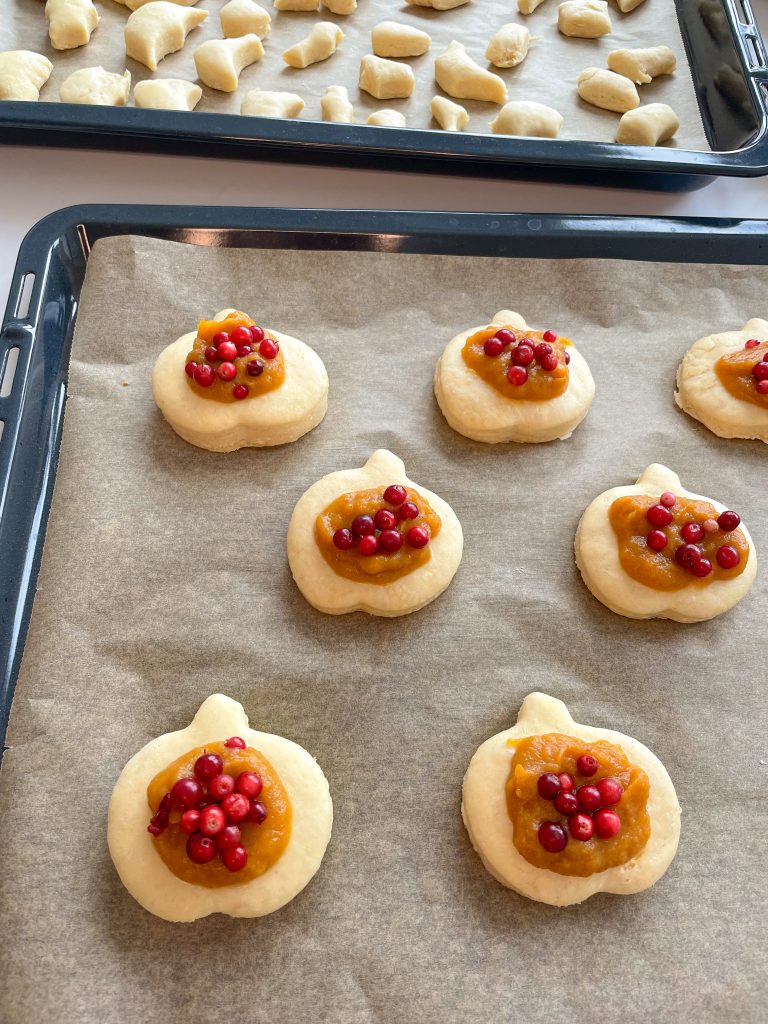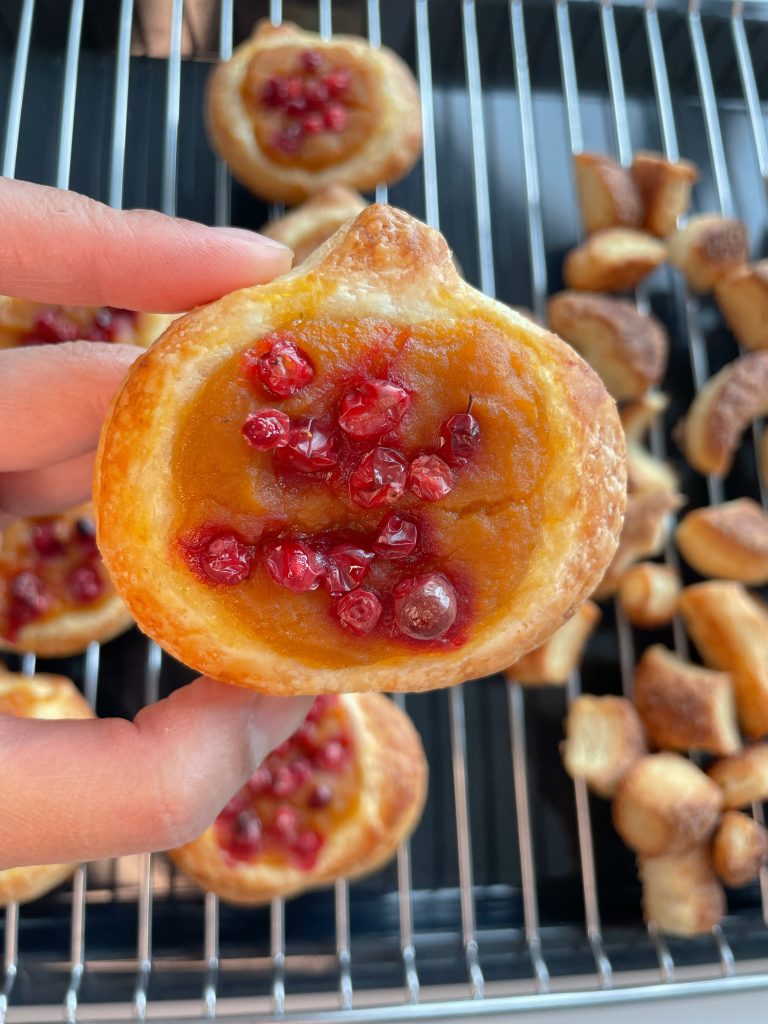 Let me know what are your other favorite danish toppings by connecting with me through my other social media platforms under @onehappyavo. Hope you will enjoy making these Pumpkin Cranberries Danishes as much as I do, and have fun baking!
Pumpkin Cranberries Danishes | Baking recipes to learn this Autumn
Ingredients
1/2 cup pumpkin puree

1 tablespoon pumpkin spice mix
(or 2 teaspoons ground cinnamon, 1/2 ginger powder, and 1/2 ground nutmeg)

2 tablespoon apple sauce

2 tablespoon caster sugar

1 teaspoon corn flour

1 teaspoon lemon juice

1/4 cup fresh cranberries

1 Egg for the eggwash
Directions
Preheat the oven to 200˚C or 400˚F.
In a medium, size bowl add together pumpkin puree, apple sauce, and caster sugar. Set aside.
In a small cup or bowl, mix the lemon juice and corn flour. Stir until there is no lump of flour left.
Add the corn flour mixture to the rest of the bowl with the other ingredients, and stir until all the ingredients are combined.
Roll out the danish pastry dough to a rectangle shape with 1 1/2 cm thickness. Cut out the dough to your preferred shape. The best is to cut it into a square shape as you cannot combines and roll the dough again like how you would do with sugar cookies.
What to do with the leftover dough: If you cut it into another shape, cut the leftover dough and dip them in egg wash then cinnamon and sugar and bake with the danish with pumpkin filling
Transfer the cut-out danish pastry dough to the baking tray with parchment paper. Use a teaspoon to scoop the pumpkin mixture in the middle of the pastry dough, leaving about 1 cm edge.
Wash and dry the cranberries, then top each pumpkin filling with 6-10 cranberries. Brush the edge with egg wash.
Bake for about 18 – 20 minutes, or until the edge turns golden brown. Let the danishes cool down for 15 minutes on the tray, then transfer them to a baking rack to let them cool down completely. Store for up to 6 days in an air-tight container, and reheat with the oven at 150˚C or 300˚F until the pastry is warm for better taste.